Getting to know Chervin Furniture & Design – one employee at a time
November 8th, 2018
Meet Steph, she brings ideas to life!
When you're strolling through the 17,000 square foot Chervin Furniture & Design showroom in Elmira, have you ever wondered how it all comes together to spark ideas and offer inspiration for your own home? That's Steph's job, one that entails both merchandising and interior design.
For several years now, Steph has assisted with design ideas and colour selection for our Vogel showroom in Toronto. She has also been a valuable member of the Hawkesville manufacturing facility renovation team, providing inspiration for the interior design. She's also currently working on the new facility in St. Clements. With this experience and her penchant for design, Steph was the perfect fit for Chervin Furniture & Design when we took the facility over in 2017. It was a bit of a gradual process, but she has been with Chervin officially for over a year now.
As merchandiser, Steph selects and places the furniture and accessories in various groupings to appeal to the customers and give them ideas and options. For example, when a sofa or a loveseat is ordered for the showroom, Steph typically selects the fabric, chooses the artwork, lamps and other accessories, and sets it up in a pleasing configuration so customers can envision themselves in the setting and feel comfortable. As a designer, she's responsible for the whole showroom.  When new furniture comes in, or groupings change or need to be refreshed, that's a project for Steph.
What is Steph's strategy for keeping the showroom interesting and inspirational? Most importantly, she considers the surroundings. Elmira isn't like Toronto or any other busy metropolis. So, while ensuring there is a good variety to appeal to every style and taste, she's drawn to traditional/transitional furniture and accessories in the showroom.  The actual building itself has a traditional ambience and that sets the tone for displaying the furniture.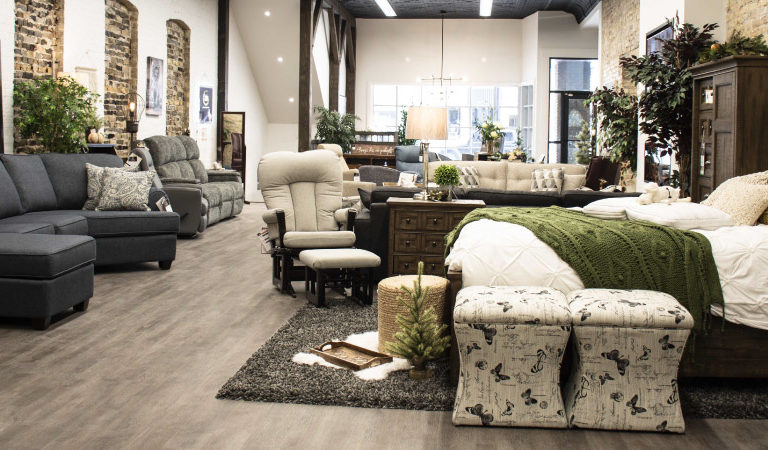 Steph's own dream home would be a really old brick building, perhaps an old factory that she could completely renovate.  She loves the idea of brick walls, wooden floors, exposed pipes in the ceiling, and metal stairs. There would also have to be lots of white walls.  Greenery is a must too; it brings life to any space. Steph's own personal style is not unlike the showroom building. That's what makes her job so much fun!  While she can't pin down a definitive style, Steph would say Restoration Hardware is a little of it, with a little Woodsy added in.
What's Steph's favourite piece of furniture in the showroom? Admittedly, she has a hard time selecting just one.  She loves the little greenish-blue Vogel tub chair in the showroom and the Clarissa Swivel Chair, also from Vogel by Chervin.  She also loves the relaxed look and feel of the Palliser Bloom sectional and the black Maitland Sectional.
When not at work in the showroom, Steph loves to spend time with her husband and friends and family. She especially enjoys hanging out with kids and takes an active part in various girls and kids clubs. When she has a few moments alone, Steph enjoys reading and arts and crafts. If not decorating at work, she's usually decorating her own home.
Pop by our showroom to see the space she has designed and to gather inspiration for you next project!