3 Little Gifts for a Classy Christmas
December 23rd, 2019
If you celebrate the holidays with presents, and you're not one of the eager ones that buys their gifts in September, chances are you may have a couple people left to buy for at this point…or maybe just a few gift baskets you're missing that one extra element for? Never fear. Today we're sharing just three little ideas of inexpensive giftable items with you – that are all available on our showroom floor! So whether it is a finishing touch or a particularly tasteful hostess gift, here are a few mature (and cute) Christmas gifts you can get at Chervin Furniture & Design for less than $30…
1. Bright Hope Candles
As a husband and wife team, Bright Hope Company enjoys working together to create quality hand-poured soy blend candles out of their 1700's barn in rural Pennsylvania. Each candle is carefully poured by hand and labeled and packaged. The couple is passionate about the miracle of medicine, so a portion of the proceeds from each candle is given to medical practitioners providing hope and healing to underprivileged people groups around the world. Candles are available in 3 sizes (large amber jars for $15.99, medium gold tins for $13.99, or small sampler tins for $5.99) and 12 scent varieties.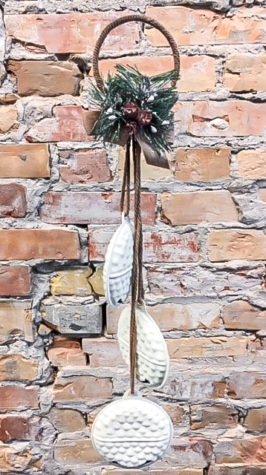 2. Rustic Christmas Decor
All around our showrooms you will find a variety of rustic and traditional Christmas decor – full of texture and nicely sized to sit on a window sill or warm up your hearth. Tell the true story of Christmas with quintessential nativity scenes, or dress your home up for the whole winter with adorable tributes to snow and cozy living.
3. Christmas Toss Cushions
These cute and festive pillows are a great, inexpensive option for a hostess gift or to round out a larger Christmas gift (for example, pair them with some cozy pajamas, a blanket, or even a couple specialty hot chocolate mixes and a festive mug!). It's feeling quite Christmas-y and friendly in our showroom with words like "Noel" and "Joy" on display! These cushions retail for less than $30 each and are a beautiful seasonal accent for any home.
Looking for more gift ideas? Stop by one of our showrooms to see serving platters, wreaths, and even Christmas-themed clocks – all available to purchase on the spot!