Bunk Bed Basics
August 12th, 2020
Bunk beds have been the classic answer for camps, RVs, and kids' rooms for ages – their clever design is versatile, efficient, and, in general, a great way to stylize and energize any child's space. But bunk beds have come a long way over the years and come in many more varieties than they used to. Now bunk beds come in every style (from utilitarian to ornate) and in a wide variety of configurations to suit every family size, season, and stage of life. Let's walk through four unique bunk bed configurations you can purchase through Chervin Furniture & Design, and discover which one is best for you and your little ones…
Traditional Twin bunk beds
Ideal for: Siblings
A classic twin-over-twin bunk bed is a fantastic option for growing families looking to maximize bedroom square footage (not to mention good times – to most kids, a bunk bed = an automatic adventure). Most bunk beds these days come with sturdy, built-in ladders, often on a slight angle to make climbing to (or from) that upper bunk a smoother and safer experience. The majority of the bunk beds we sell are also convertible to two complete twin beds, which is perfect for a growing family who wants to future proof for other potential layouts or even upsizing to a home with additional bedrooms at a later date. There is a wide range of styles to choose from, ranging from streamlined metal frames to solid wood structures with plenty of built-in style and storage – you choose what works for you and your children.
Twin-over-Full Bunk Beds
Ideal for: Families with age gaps & bedtime story fans
Opting for a twin-over-full bunk bed opens up your options for versatility as your children grow. The top bunk is the same as if you purchased a traditional bunk bed, but the wider bed at the base can serve as a fantastic spot for bedtime stories, a good option for a growing child (or siblings with a significant age gap), or even two kids who can share (i.e. sleepover buddies or siblings). If you have time, explore both the traditional options above and the twin-over-full options below – the majority are actually available in both configurations!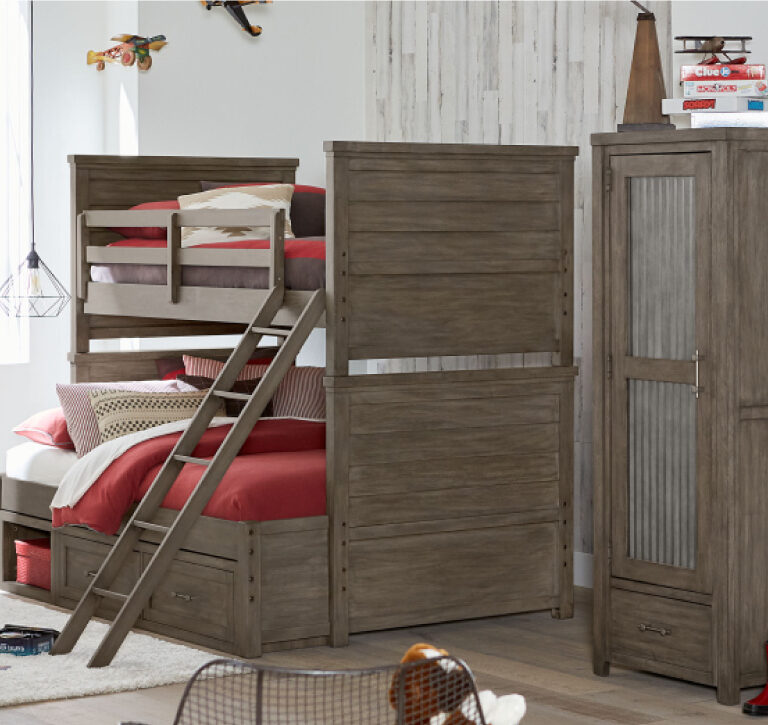 Loft Beds
Ideal for: the creative "only child"
An ultra-fun option for kids of all ages is a loft bed. These beds are raised a few feet off the floor, offering the space conservation of a bunk bed, but providing versatile storage space, rather than an additional bunk! Opt for drawers, shelves, or open space – if you choose to leave it open under the bunk, that space can be converted to a play space, study space, or lounge. There aren't as many models of this style of bed, but they're very fun and customizable and are sure to make your child's room a cool place to be.
Trundle Beds
Ideal for: sleepover enthusiasts & cottage crashers
While not technically a "bunk bed", trundle beds are worth considering if your need for a bunk bed is intermittent. If you're looking for additional sleeping options up at the cottage, or preparing for a stage where sleepovers will be a popular request from your kid, trundle beds are the perfect solution. Trundles are mattresses effectively stored in a drawer beneath the main bed – concealed (and not taking up valuable space) when not in use, but available for a cozy snooze at a moment's notice. It may even come in handy on those nights where you're called on to comfort someone after a nightmare or read them that "one more" bedtime story.
All in all, bunk beds are fun and clever solutions for lots of families, using space efficiently and adding excitement to any kid's room. Could a bunk bed be the right choice for your family's next season?
Explore our full collection of bunk beds here.