3 Tips for Choosing and Styling Throw Pillows
April 15th, 2021
Throw pillows are an excellent way to easily style your home and switch up your décor for various seasons. The question is, how do we do this effectively? There are three key things to keep in mind when it comes to styling throw pillows:
Choose the Right Fabric
Choose the Right Pillow Insert
Choose the Right Arrangement
Choose the Right Fabric
Your home should reflect who you are, your personality, and your lifestyle. Find unique pillows that speak to your personal style. Do not be afraid to play around with different textures, colours, and patterns (We love this article for helping you mix and match throw pillows).
If you are shopping and a certain pillow jumps out at you, buy it, give it a try in your space! If you decide it is not for you, you can always return it or sell it on your local Facebook Buy & Sell (you won't be the first one to do this).
Try to purchase most of your pillows in pairs. You will likely want the pillows on the far left and right of your sofa to match. To get the most impact, try to choose colours or tones that complement the colour palette you already have going on in your space (i.e. walls, sofa, rug, décor).
Choosing the Right Pillow Insert
While there is not one right kind of pillow insert, there are definitely differences in the look and feel of various insert materials.
Polyester inserts are an excellent option if your pillows are simply there to look pretty and receive limited use for lounging. This type of insert will keep your pillows looking full and standing upright, but they are not easily molded.
If you like the "chopped" look (when you karate chop the top of the pillow to create a subtle indent), down or feather inserts are most suitable for you. These inserts will make your pillows plusher and more formable. Down/Feather inserts are a heavier, higher quality, and more luxurious alternative to polyester inserts.
Perhaps the most important thing when choosing the right pillow insert is to ensure you purchase ones that are 2" larger than the size of your pillow cover. This will make your pillows more plump and pretty, filling out your cover nicely.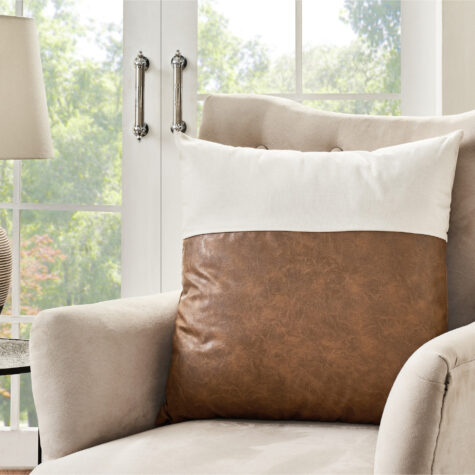 Choosing the Right Arrangement
Now the fun part, seeing your choices come together! When arranging your pillows, it's best to create a layered look by using different pillow sizes on your sofa or sectional. A good rule of thumb for this is to have a 2" difference in the size of the pillows you are pairing. For example, 22" pillows often pair well with 20" pillows.
When styling pillows on a sofa, 2 – 3 pillows in each corner will suffice. Always keep your largest pillows in the back and your smaller ones out front. If you feel like you need a little more, you can always add a lumbar styled pillow into the mix, likely in the middle of your sofa.
---
BROWSE OUR THROW PILLOWS!
Use these tips and tricks up bring a little spring into your home this season. Browse our throw pillows to get started!
---